Want to give your kitchen a facelift? Painting cabinets might require you to be a weekend warrior, but the finished product is worth the effort and a fraction of the cost compared to a total remodel. We're sharing our favorite tips and tricks for how to paint kitchen cabinets, so you can make the hardest working room in your home feel brand new.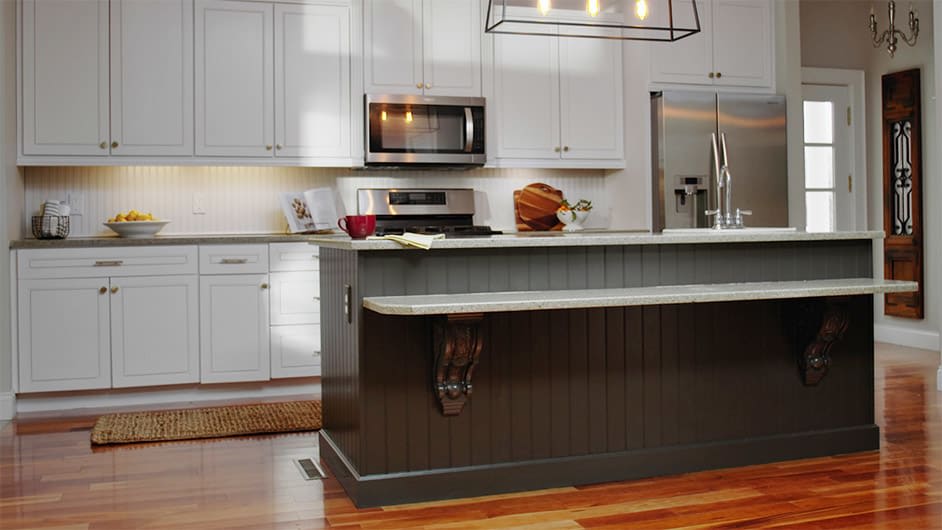 Prep Makes Perfect
We believe in the mantra "prep makes perfect" – especially when it comes to projects like painting kitchen cabinets. Always start by removing cabinet doors and hardware, so there's nothing in the way when it comes time to paint. Once everything is off, you can clean the surfaces getting painted and protect the ones that aren't, like countertops and cabinet interiors, with painter's tape.
DIY TIP: Use a degreasing cleaner to help remove oils that naturally build up on kitchen cabinets over time.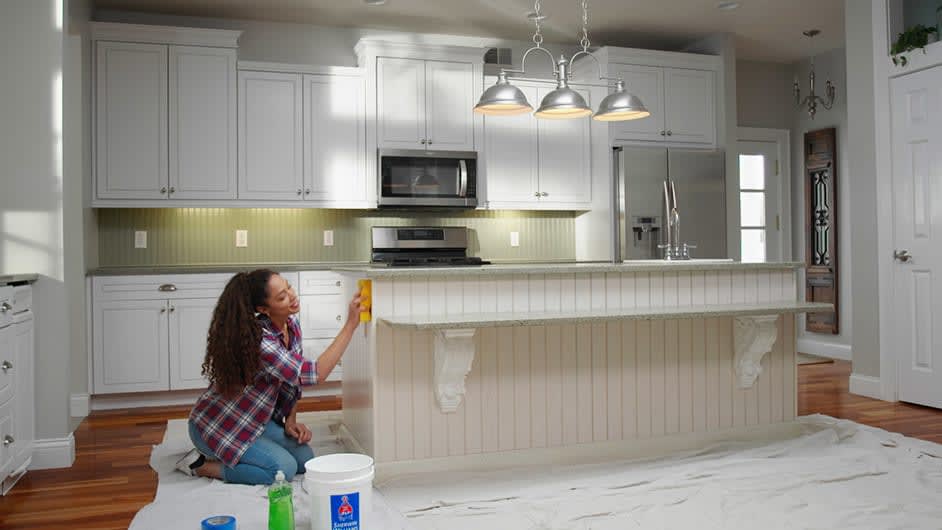 Use the Right Primer & Paint
Just like prep makes perfect, so does the right primer and paint. Extreme Bond Primer offers exceptional adhesion for hard-to-stick surfaces like cabinets. Plus, when you pair this primer with the power of a clean surface, you might not even need to sand. Once you've taken care of primer, the best paint for cabinets is Emerald® Urethane Trim Enamel. This product creates a hard, durable finish that withstands the wear and tear of frequently used areas like kitchens.
DIY TIP: Gloss, semi-gloss, and satin are all perfect sheen choices because they help create a smooth finish when painting kitchen cabinets.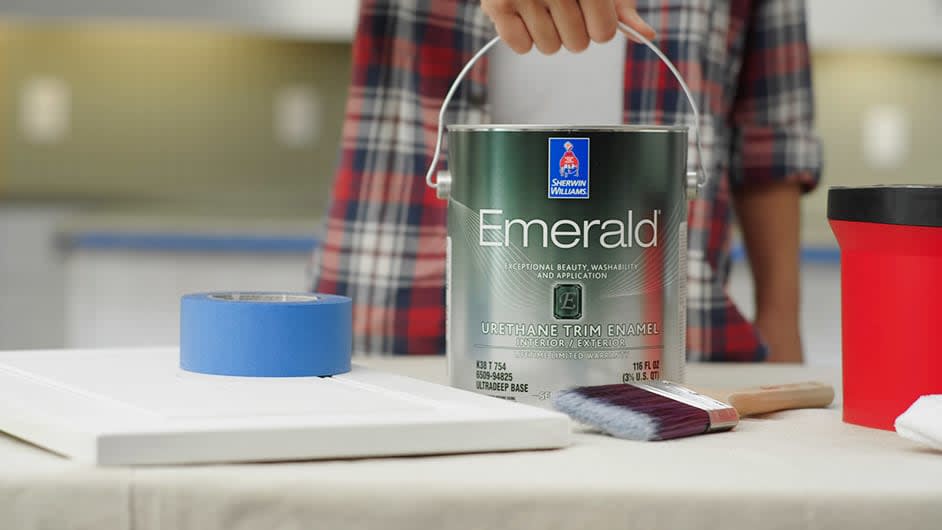 Select a Hue (or Two)
When it comes to picking a color, our Director of Color Marketing, Sue Wadden, shares what she's seeing in the kitchen. "Right now, painted cabinets are the trend – specifically whites and grays." And while you can never go wrong with these classic neutrals, earthy shades like Urbane Bronze are becoming another go-to choice.
If you find yourself thinking two colors are more fun than one, you can also paint upper cabinets in a lighter color and lower cabinets in a darker color to create a two-toned look, also known as the tuxedo kitchen. "This kitchen trend is a great way to give cabinets or islands a signature look," suggests Wadden.
DIY TIP: Order color chips or peel and stick samples to try out the colors you're thinking of using.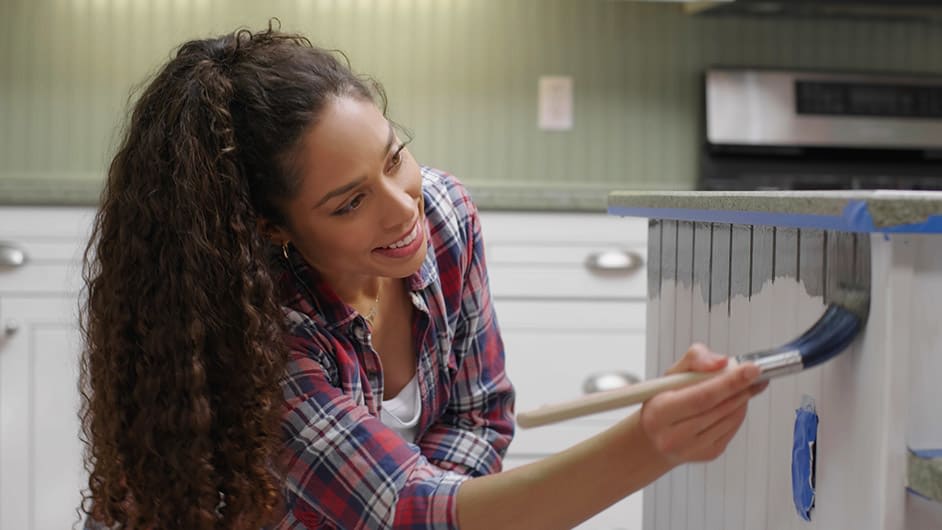 Upgrade Hardware
After you've given your cabinets a new coat of color, they'll be begging for some new accessories, too. Our partners at Rejuvenation have a collection of timeless hardware that keeps cabinets looking in style for generations to come. Whether you opt for knobs, pulls, or a mix of the two, this simple update is the perfect way to give newly painted cabinets their finishing touch.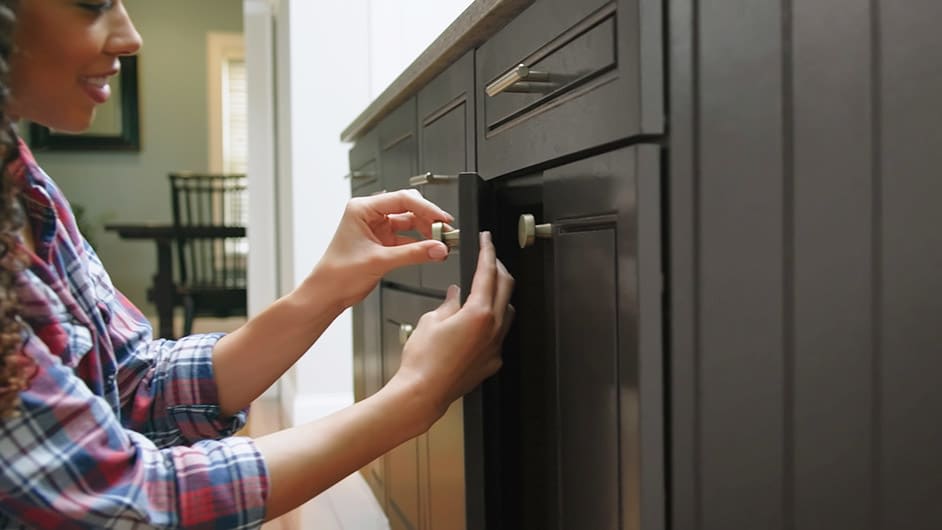 Now that you've got some tips and tricks up your sleeve, it's time to start planning your kitchen refresh. Follow our step-by-step tutorial on how to paint kitchen cabinets and drop a comment below to share which paint color you're thinking about using!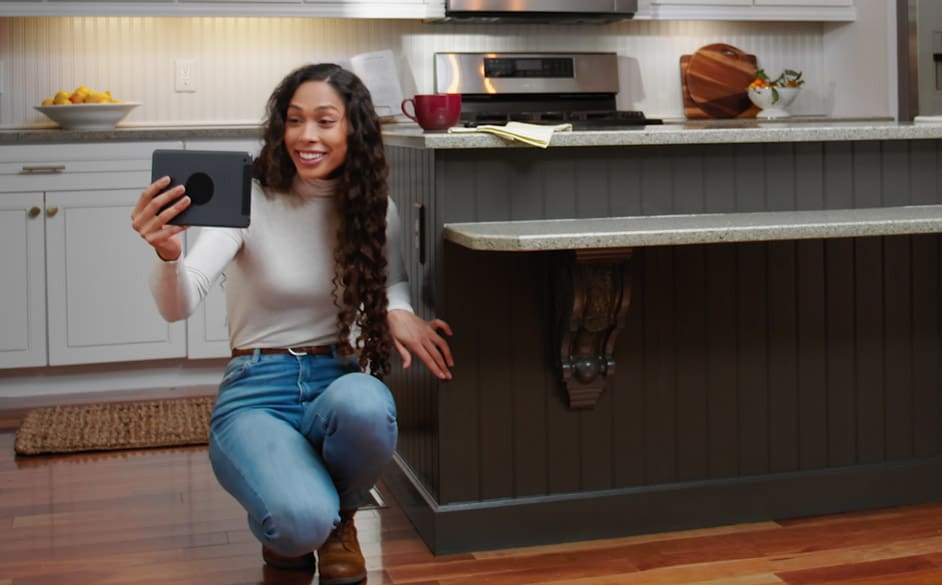 Don't forget to share your kitchen makeover with us! Tag your photos on social media with #SWColorLove or upload them to our
gallery
for a chance to be featured.