Molbak's Garden + Home in Woodinville has set deep roots within its community. In 1956, Egon and Laina Molbak planted a seed that took root and grew into the successful Molbak's Garden + Home. Molbak's is known for its wide selection of plants and gifts, its relaxing café, and the important role it plays in local seasonal traditions. More than six decades later, its dream is in full bloom and ready for a new chapter.
Recently, Molbak's announced a new project that will transform 20 acres of land into a "city within a garden" known as The Gardens District. The development project will create new housing, retail, restaurants, and the new Molbak's headquarters.
The vision took seed a decade ago, when the Molbak family approached the University of Washington's Green Lab to help them envision a place that embraced sustainability and green spaces while also supporting responsible growth.
"It is really exciting to finally see this coming to fruition. The planning process was incredibly thoughtful and a rewarding experience for everyone involved. It's amazing (and a little daunting) that we are literally getting ready to dig in," Molbak's CEO, Julie Kouhia, told 425 in late September. "We were thinking a lot about our place and meaning in Woodinville. Molbak's has been here since 1956, so it was important to us that the project be something for the community and from the community. We knew we wanted a space that felt connected to nature and people."
We asked Kouhia a few questions about what we can expect during this new chapter of Molbak's.
What can people expect to see once The Gardens District is complete? What will that experience be like?
Truly a city in a garden. It will be a walkable community where you can live, visit, shop, dine, and most importantly feel connected to nature in an urban setting. In the heart of the Gardens District is the Molbak's store and the beautiful gardens that surround it. We've been a part of this community for over 65 years, and we are committed to being a positive and central part of the community for the next 65 years and beyond. Our goal is to be a dynamic urban oasis that inspires people to connect with the environment in their own homes, whether they are small apartments or expansive estates.
Is there anything you're particularly excited about?
I believe that The Gardens District has the opportunity to set a new standard for urban development — one that addresses the needs for growth and prosperity while also creating a closer connection to nature, protecting the environment, building a strong sense of place, and forging a much tighter sense of community and belonging.
There are five phases toward completion; when can people expect phase one to be complete?
Phase one is scheduled to be completed in late 2025. The overall project is expected to be 15-plus years in the making.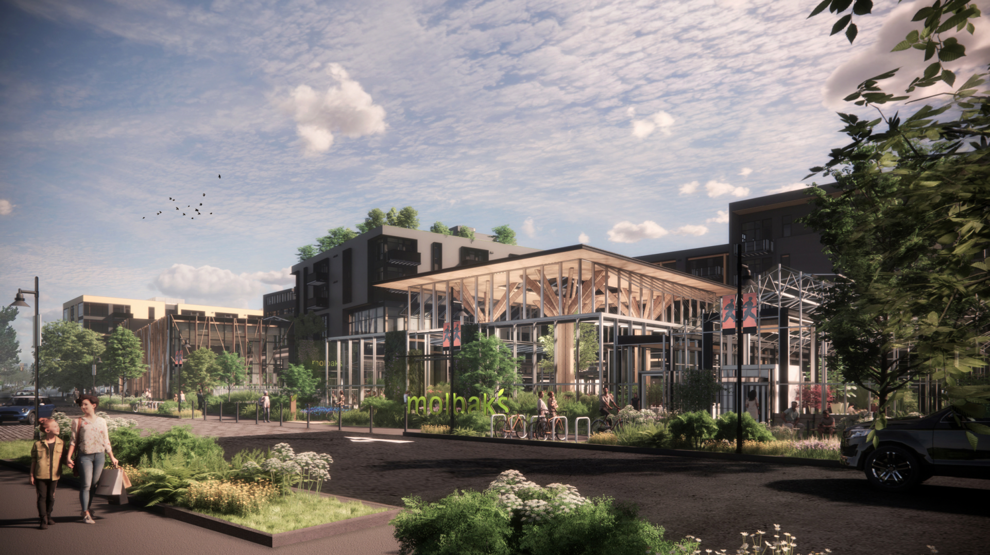 What will happen to the original Molbak's location?
Once Molbak's has moved into its new location, there is a thoughtful plan for disassembling our current structures to make room for new phases of development. We are working to ensure that the project is carefully phased and orchestrated to provide the best possible experience for customers, residents, and visitors throughout the development process.
Can you talk more about the sustainable features people can expect to see?
Molbak's is targeting LEED certification in the construction of our new home. Within the entire project, it is employing best management practices for soil erosion and water runoff throughout the course of construction. We'll be eliminating all invasive plant species and replanting all critical areas with native plants. The greenhouses will have rainwater reclamation systems and reuse for plant irrigation. Red alders are part of the landscaping plan, which are outstanding trees for rapidly reconditioning disturbed urban soils, intercepting stormwater, and sequestering carbon. We'll be restoring a rare, daylit section of Woodin Creek, which will be replanted to improve both beauty and ecology.
At Molbak's, we are steadfast in our commitment to be more sustainable. We've been consistently improving our company policies for years; from a plastic pot recycling program to carrying only natural and organic gardening supplies to giving preference to vendors and growers who align with our values. The Gardens District is an immense opportunity to take our sustainability initiatives to the next level. We are eager to explore what more we can do as a company and how we can amplify our mission to inspire people to create beautiful spaces that help restore the health of the planet.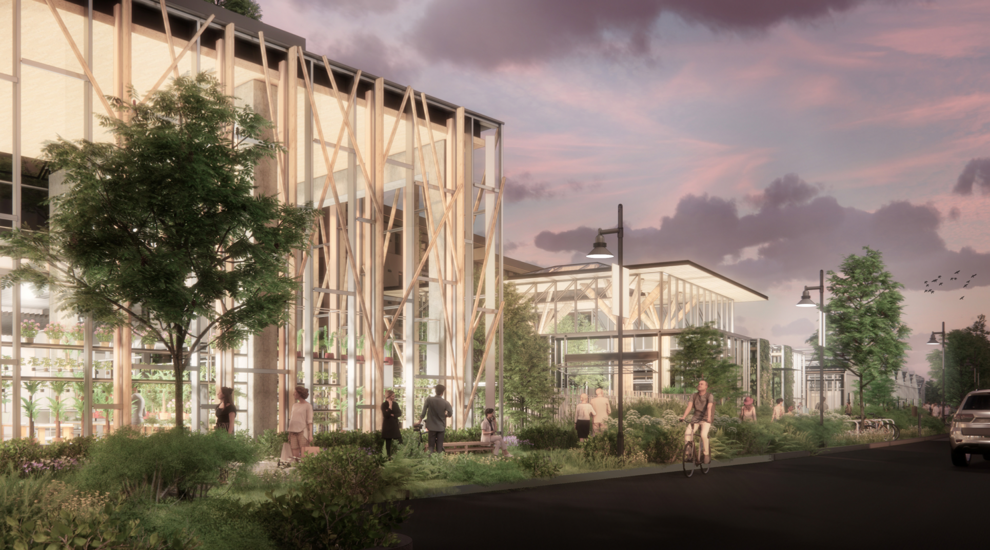 Anything else you would like to add?
The Gardens District is a collaboration with experts in sustainable community planning and the city of Woodinville. It builds on feedback from community members, employees, and customers. It is a project that has held true to its values of being a model for connecting nature and community in an urban setting.
Learn more online, at The Garden District.