Home Transformation Done By Team Lister in 2019
Every Mercer Island homeowner has the same goal when it comes time to sell their home, getting the highest bids and closing quickly.
Mercer Island continues to demand top-dollar from home buyers because of the nationally recognized schools and the beautiful setting with it's parks and views everywhere you look.
There are many types of buyers looking to buy on Mercer Island. Some are coming with families and many are looking for that treasured rambler style home for retiring.
If you're considering listing your home on the market — don't wait!
Here are some ideas that can help you maximize the value of your home when you're ready to list.
Declutter and deep clean
The real magic happens when potential buyers can imagine themselves inside their dream home. Your Mercer Island property is a coveted asset — one that prospective buyers want to love! Decluttering and deep cleaning your Mercer Island home prior to listing will impact the final sale price more than you can imagine.
A clean setting and uncluttered setting will elevate your home's showing experience by allowing potential buyers to stay focused on what they love about your house. From playrooms drowning in a sea of toys, to couches with remnants of dog hair can send negative signals to potential buyers.
Applying a fresh coat of paint and illuminating your living space with bright lighting will go a long way toward neutralizing your home and optimizing the showing experience for guests. It is amazing how fresh and new an interior can look with a fresh coat of paint!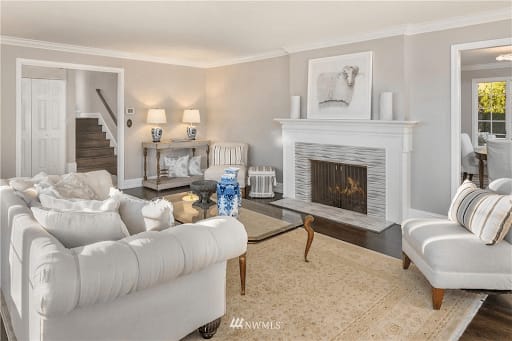 (Home was deep cleaned, painted and lightly updated prior to listing)
Small upgrades are important
Small upgrades such as the following can be critically important in maximizing your potential sale price.
Fresh paint, new floors, lighting, updated backsplash, new appliances, LED smart bulbs, new garage doors are all examples of what can give you a high return on your investment. These can all be completed relatively quickly during the listing process depending on the extent and availability of materials.
From an economic perspective, major home improvements make less sense than the smaller ones recommended above.
Hire an experienced realtor
Not all real estate agents are equally prepared to sell luxury homes. Finding the one to earn you top-dollar for your Mercer Island property means working with someone who can provide you savvy market insights and a wide breadth of local knowledge. I will be able to help you launch a targeted, data-rich campaign for marketing your Mercer Island home—and then diligently follow up with qualified buyers.
Decide your price
Price your property too high, and you risk turning off the market, but if you price it too low, you leave money on the table.
When we work together, I will use a data-driven approach that closely considers homes recently sold on Mercer Island, but with little competition and high-demand, we'll strike the right balance for your home so that you can sell quickly, easily and with many offers.
Staging and marketing is key
Mercer Island real estate is a hot market right now, but finding the right buyer is key to getting the highest offers for your home.
Generating excitement by exquisite staging and photography combined with keywords used to market your home online helps potential buyers start making an emotional connection to your home before they even step foot in the door.
When a buyer tours your home they should be so excited going from one room to the next that they are placing their furniture in the rooms and envisioning themselves living there.
Great staging = great photography = great excitement to brokers and buyers = lots of showings = lots of high offers!
ings like the age of the roof or the condition of the furnace. By then, you may already have them hooked.
Looking to list your Mercer Island home for sale?
Trust me, now is the time to sell your Mercer Island or greater Seattle real estate!
I can provide you with everything you will need to maximize the value of your home along with the best customer service Mercer Island's luxury real estate market has to offer.
Wherever you are in the process of selling your home, contact me today!