So many projects, so little time. That tends to be the mantra for homeowners with an ever-growing to-do list and limited availability to accomplish their tasks. Fortunately, the weekend is an opportunity to dig into certain projects and see them to their completion by the time the weekdays come around again. These seven weekend home projects can be accomplished within a couple of days and will make a dent in your to-do list.
7 Weekend Home Projects
1. Upgrade Your Kitchen Cabinets
Giving your kitchen cabinets a facelift is a simple way to give your kitchen a makeover. When staining wood cabinets, begin by removing the cabinet doors and hardware, then wipe the doors to clear away and dust and dirt. After applying and removing wood strippers, sand the doors to get them primed and ready for a new stain. When painting cabinets, choose a color that works well with your appliances. As you pack up the contents of the cabinets keep your most frequently used items nearby so you can access them during your project. To add a finishing touch to your weekend cabinet makeover, shop around for new hardware and drawer inserts.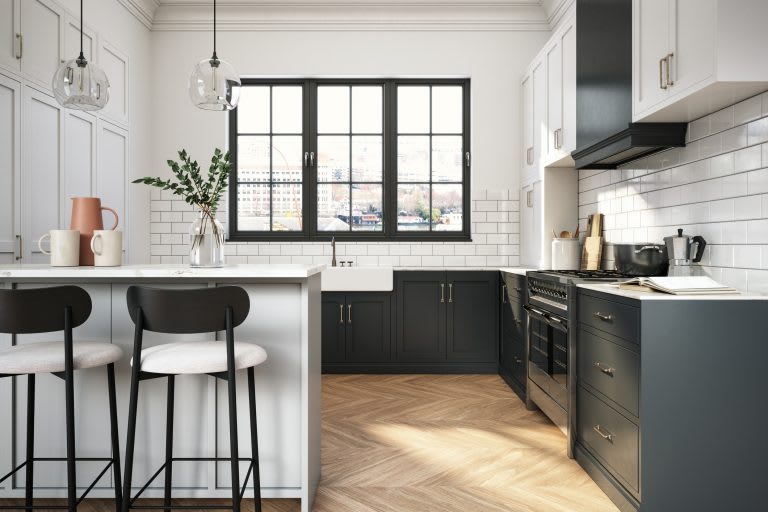 2. Refresh Your Front Entry
Your home's front entry is the key to making a lasting first impression and helps to enhance your curb appeal. Make a statement by giving your front door a fresh coat of boldly colored paint, look for stylish house numbers, and add classic front entry elements like a sitting bench or swing for ultimate comfort.
3. Improve Your Home Office
Whether you work remotely or in person, much can be done in a weekend to improve the functionality of your home office. Creating an environment conducive to your product helps to separate your office from the rest of your home, maintaining a balance between your work life and your home life. Situate your desk near a window to attract natural light. If the room has no windows, orient your seating so you're facing the open space of the room. Experiment with therapy lights, ergonomic chairs, and soothing décor to make your office as comfortable as can be.
4. Curate Your Bathroom
In one weekend your bathroom can be transformed into a sanctuary of self-care. Refinishing your tub is a cost-effective alternative to a replacement. Start by removing any and all hardware, then sand the whole surface, filling in any cracks or holes with putty. Once you've sanded down the putty, apply multiple layers of primer and topcoat following the manufacturer's instructions and buff the surface. Replace your vanity's cabinet hardware and drawer pulls, matching them with your shower rod, faucet and showerhead to tie the room together. Switch out your shower curtain and carpets for bold colors to liven up the space or choose neutral tones to create an organic feel.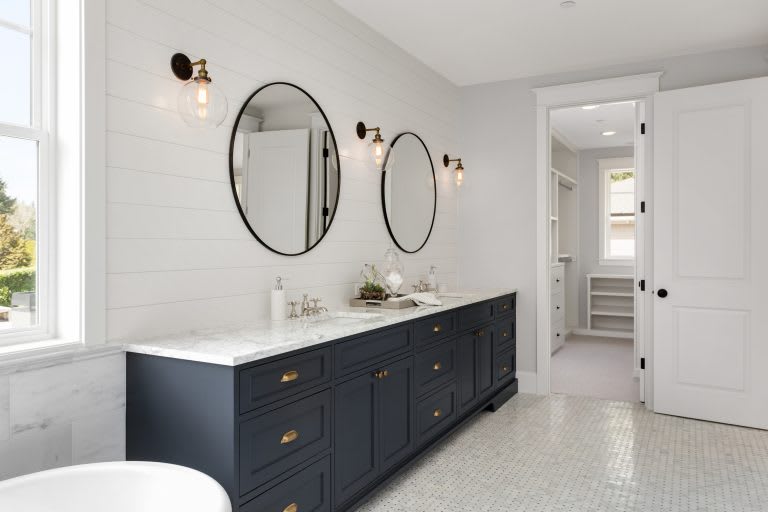 5. Organize Room-By-Room
Spending a weekend organizing each room of the house is sure to make a big difference in the look and feel of your home. Bookcases and coffee tables are magnets for clutter in the living room. Start by emptying everything and sorting the items into three piles: keep, dispose of, donate, (this method of organization will do wonders for your closets and bedroom as well), and invest in storage bins to keep the space tidy. In the bathroom, organize the medicine cabinet and vanity drawers first. Get rid of expired medication, makeup, and toiletries. Take the same approach to your shower. Once you've gone through everything, reassess your shower shelving to fit your newly organized inventory. After working your way through your kitchen cabinets, consider either a hanging or wall-mounted pot and pan rack to save space.
6. Fix Up Your Fence
Whether your fence needs a simple wash, a new sealant or stain, or repair, tending to it will freshen up your yard while also extending the life of your fence. Power washers are a helpful tool in getting your fence clean before re-staining, but a sprayer that's too powerful could damage the wood. Let the fence dry for one to two days before applying the stain. As long as any damage that needs repair is contained to a section of the fence, a weekend should be plenty of time to get it fixed. To replace any damaged rails, pry them off their posts with a crowbar or cut the damaged section out with a handsaw. When repairing fence posts, be sure to remove any rails that are connected to them.
7. Build a Fire Pit
Common fire pit materials include brick, stone, or cinder blocks. Outline your fire pit before you start digging. Once the hole is dug six to eight inches deep, fill in the hole with gravel until it is level with the ground. Choose your materials, fix the stones into the ground, compact them together, and enjoy your time by the fire. Check for local burn bans or regulations.